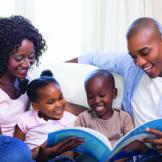 Family Storytime
Central
Every week on Monday and Monday at 10:30, but not on: 10.10.2022
Please note: Family Storytime is moving to Hillcrest Mall from November 28th-December 19th. Join us for holiday read alouds fun for the whole family. Located at Centre Court, near Entrance 4. 
Ages: Family (2-4 with caregiver)
Talk, read, sing, write, and play with us as we share stories, games, rhymes, and songs!
Tickets will be handed out 15 minutes before the program begins.
This program will take place in the Children's Program Room.