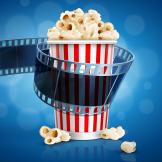 Film Club
On the 4. and 4. Wednesday each month at 14:00
Ages: Adults
Join our monthly film club to discuss top-rated features with fellow film enthusiasts, from the comfort of your home. New members welcome! Download films for free with your RHPL card through Hoopla.
Jan. 26: Driveways directed by Andrew Ahn
Feb. 23: The Lobster directed by Yorgos Lanthimos
Mar. 23: The Last Right directed by Aoife Crehan
Apr. 27: June Again directed by J.J. Winlove
May. 25: Tell it to the Bees directed by Annabel Jankel
Jun. 22:  Rustic Oracle directed by Sonia Boileau (available from CBC Gem)
This program will be done through Zoom, a free video conferencing software for tablets, smartphones and computers. Access instructions will be sent to those who register.
Register (Jan-Mar 2022)
Register (Apr-Jun 2022)
Join us in July and August for special Film Club Summer Meet Ups! Click here for more details.