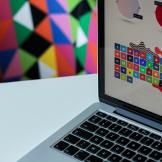 Video Games
The Art of Video Games
In the forty years since the introduction of the first home video game, the field has attracted exceptional artistic talent. Check out The Art of Video Games, Smithsonian American Art Museum exhibition that explores the evolution of video games as an artistic medium, with a focus on striking visual effects and the creative use of new technologies.
Chris Melissinos, guest curator of an exhibit about video games at the Smithsonian American Art Museum, explains what makes the genre an art form.
History in Progress
Explore Video Game Museum pictures of games, boxes, systems, and game screen captures.
Play
Try some great games that you can play in your browser. QWOP is super hard and hilariously fun to play! Or try Threes, Spelunky, Slither.io, A Dark Room, Line Rider, Catan Universe, Freeciv, Pokemon Showdown. 
Design
Explore with Lynda.com! Sign in with your library card and break into the world of game design, find exactly what you want to learn from how-to videos about Game Development, taught by industry experts, and learn how to make a game for iOS, Android, Kindle, or the web.
Learn how to create your own video game.
Want more? See themed days by our staff on our Daily Adventures page.