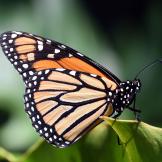 Attracting Pollinators to Your Garden
Ages: Adults (teens welcome)
Helping the environment starts in your own backyard. Learn how to attract and protect native pollinators like the monarch butterfly and ruby-throated hummingbird with beautiful landscape features.
Presented in partnership with the Toronto and Region Conservation Authority and the City of Richmond Hill's Healthy Yards Program.
This program will be done through Zoom, a free video conferencing software for tablets, smartphones and computers. Access instructions will be sent to those who register.