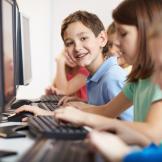 CANCELLED: mBot Robots Playground (with The STEAM Project)
Central
Every week on Saturday and Saturday at 14:00
SERVICE UPDATE: This program has been cancelled. We apologize for any inconvenience this may cause.
Ages: Kids (4-5)
Customize your own robot and then train it to do tricks, complete a playground obstacle course and race other robots. It's easy to learn with the MakeBlock mBot!
Cost $5
This program will take place in Room C (Dec. 3) and Room A (Dec. 10) at Central Library.