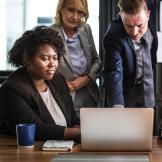 One-on-One Small Business Consultations
Online
On the 1. and 1. Wednesday each month at 11:00, and also on: 12.10.2022, but not on: 05.10.2022
Ages: Adults
Have a small business idea and need help with the next steps? Book a 30-minute online appointment with a Small Business Consultant from the Richmond Hill Small Business Enterprise Centre.
This program will be done through Zoom, a free video conferencing software for tablets, smartphones and computers. Access instructions will be sent to those who register.
Register (select specific date/time at registration page)
One-on-one small business consultations will also be available on Tuesdays October 18, November 15, and December 13, 2022 from 6:00 - 7:00 pm. For more details, click here.