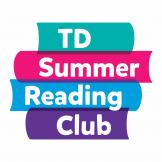 Summer Meet Up (Grades JK - 2)
Zoom programs
Every week on Thursday and Thursday at 16:30
Ages: Kids (JK - Grade 2)
On this page, you're registering for weekly, virtual meetups, an activity that's part of our larger Summer Reading Club program. Find more details and register for our Summer Reading Club program here.
Catch up with TD Summer Reading Club friends every week to share what you're reading, play games, and compete in challenges!
This program will be done through Zoom, a free video conferencing software for tablets, smartphones and computers. Access instructions will be sent to those who register.