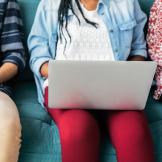 Teen Tech Sesh
Zoom programs
Every week on Monday and Monday at 18:59, but not on: 17.05.2021
Ages: Teens (13-17 years)
Get inventive with us! Create or code something new this Spring. No experience necessary.
May 3: Inventor Meet up. Show off your original invention. Design a product or build on an existing concept! Project ideas provided to all who register.
May 31: DIY Video Games. Collaborate on a computer game or make your own using free online tools. Project ideas will be provided to all who register.
June 14: DIY 3D Pride Keychain. Design a custom keychain for Pride month by using Tinkercad.
This program will be done through Zoom, a free video conferencing software for tablets, smartphones and computers. Access instructions for using a computer or phone will be sent to those who register.