Technology at the Library
Public Computers
Many computers are available for use by community members at all four RHPL locations.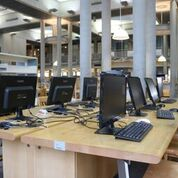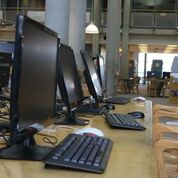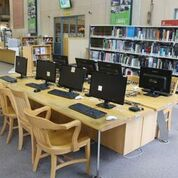 Each computer is automatically reset and erased after every session. We recommend bringing a USB stick or connecting to a cloud storage service (i.e. Google Drive, Dropbox, etc.) for saving and managing data during your session. 
Many useful applications are available on our computers, including:
Microsoft Office: create and edit documents, spreadsheets, and presentations.
Firefox and Chrome: internet browsers 
Audacity: audio editing
Blender: 3D image editing
GIMP: an open source graphic editing suite that is similar to the Adobe Photoshop suite. 
Inkscape: a vector graphic editing program similar to the popular Adobe Illustrator application.
Valid library card holders can use their card number and PIN to login to any computer for up to 2 hours per day. Our Express stations do not require a library card, and allow internet browsing for up to 30 minutes per session. 
Early Literacy Stations
We offer Early Literacy Stations™ (ELS) at all locations. ELS are computers with software designed to offer children fun, educational and interactive experiences. ELS computers contain content that spans seven curricular areas: math, science and nature, social studies and geography, reading, art and music, writing and computer skills, and reference. 
iMac Creative Workstations
We offer iMac Creative Workstations at Central, Oak Ridges and Richmond Green branches. The iMacs provide access to beginner and advanced audio and visual software that will allow you to unleash your creativity as you work on exciting digital media projects.
Many useful applications are available on our iMac Creative Workstations, including:
GarageBand: Music recording, creating and editing
iMovie: Basic video editing suite
Adobe Photoshop: Image editing and compositing
Adobe Illustrator: Vector graphics and illustration
Adobe InDesign: Page design for print & digital publishing
Adobe Premiere Pro: Video production and editing
Adobe After Effects: Cinematic visual effects & motion graphics
Adobe Dreamweaver: Website creation and design
Adobe Flash Builder: Coding Flash apps
Reserve a three-hour workstation session by calling Oak Ridges, Richmond Green or Central branches. Drop-ins are welcome, but are dependent on availability.
You can extend your session based on staff discretion. Reservations will be held for 15 minutes, but time slots will be re-assigned in the event of a 'no-show.'
Please note that you will need to save your work to a USB drive or a cloud-based service, such as Dropbox. Failure to do so will result in your data being lost once the computer restarts.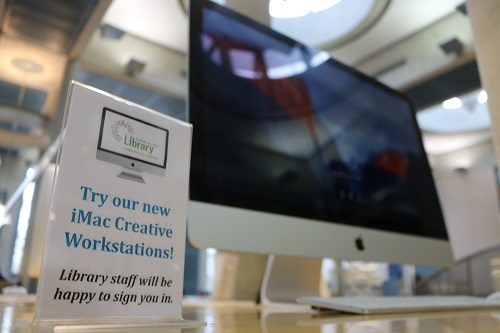 Free Wi-Fi
We offer free public wireless internet at all locations.
To connect to our free Wi-Fi service, simply:
Ensure your device is powered on
Enable your wireless adapter
Connect to the "RHPL-Public" 
Launch a web browser (i.e. Safari, Chrome, Firefox, Internet Explorer)
Acknowledge and click "I Agree" to our Internet Use Policy.
Printing, Scanning and Photocopying using an RHPL Copy Card
RHPL offers printing and photocopying at all locations. You are required to add funds onto a Copy Card. Purchase a Copy Card and add funds at any of our customer service desks.
Find out more about Copy Cards.
You may be interested in: Email to Print features. 
|   | Cost per page |
| --- | --- |
| Black and White | $.15 |
| Colour | $.40 |
| Scan | $.05 |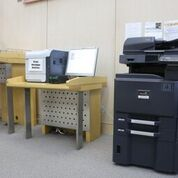 iPads and Chromebooks

We offer iPads and Chromebooks that you can use in our branches. Our iPads are available through our iPad Kiosk (pictured above). 
Here's what you need to know about borrowing our iPads and Chromebooks: 
iPads and Chromebooks are for use in the library only. Chromebooks are currently available at Richmond Green and Central branches. 
iPads can be checked out using our iPad Kiosk. You are responsible for returning the iPad to the kiosk and ensuring that it locks tightly in place.
Chromebooks can be checked out and returned to the information desk at Richmond Green branch or the third-floor desk at Central branch.
You must be 14 years or older with an RHPL card in good standing to borrow a device.
You can borrow an iPad or Chromebook for up to three hours. To track your time, we suggest you set the alarm on the device.
You are responsible for the device you borrow; please do not leave it unattended.
iPads and Chromebooks are available on a first-come, first-served basis. You may only borrow one device at a time.
If the device is lost or damaged, you will be billed ($525 plus tax for iPads, $743.40 plus tax for Chromebooks) on your library card.
If you want to use any apps other than those already installed on an iPad, you must use your own Apple ID. These apps will be deleted once the iPad is returned.
Terms and conditions are subject to change