Technologies at the Library
Borrow technology when you visit the Library. Explore the many ways Richmond Hill Public Library is empowering members with the tools and resources they need to access and share information, while boosting their levels of creativity and productivity.
Computers
All of our branches offer a host of desktop computers (and free Wi-Fi) for use. Each computer is equipped with Microsoft Office, Firefox and Chrome, Adobe Acrobat Reader, GIMP, VLC, and PaperCut for printing. 
Members can reserve computers for up to two hours per day. Express computers can be used for up to 30 minutes without a library card. All computer time can be extended at the discretion of our team.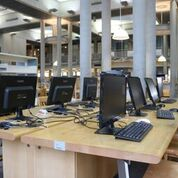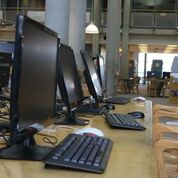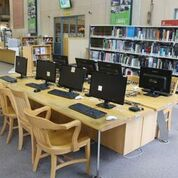 Each computer is automatically reset and erased after every session. We recommend bringing a USB stick or connecting to a cloud storage service (i.e. Google Drive, Dropbox, etc.) for saving and managing data during your session. 
Early Literacy Stations
Designed for ages 2-8, Early Literacy Station computers offer fun, educational, and interactive content in seven curriculum areas: math, science and nature, social studies and geography, reading, art and music, writing and computer skills, and reference. Early Literacy Stations are available at all RHPL locations.
iMac Creative Workstations
Available at our Central, Oak Ridges, and Richmond Green branches, we offer iMac Creative Workstations to support digital creators of all ages. Each station is equipped with GarageBand, iMovie, and the Adobe Creative Suite. 
Members can reserve iMacs for up to three hours per day, with the option to extend their time at the discretion of our team.
Please remember to save your work to a USB drive or a cloud-based service, such as Dropbox. Your data will be lost once the computer restarts.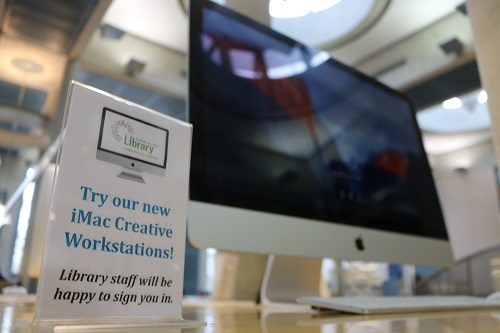 Free Wi-Fi
We offer free public wireless internet at all locations.
To connect to our free Wi-Fi service, simply:
Ensure your device is powered on

Enable your wireless adapter

Connect to the "RHPL-Public" 

Launch a web browser (i.e. Safari, Chrome, Firefox, Internet Explorer)

Acknowledge and click "I Agree" to our Internet Use Policy.
Printing, Scanning and Photocopying using an RHPL Copy Card
RHPL offers printing and photocopying at all locations. You are required to add funds onto a Copy Card. Purchase a Copy Card and add funds at any of our customer service desks.
You may also be interested in: Email to Print features. 
|   | Cost per page |
| --- | --- |
| Black and White | $.15 |
| Colour | $.40 |
| Scan | $.05 |
iPads and Chromebooks

iPads are available for in-library use at all of our branches. Enjoy the selection of built-in apps, or download more with your own Apple ID. (Note that extra apps and personal information will be deleted once the iPad is returned.)
Chromebook laptops are available for use in our Central and Richmond Green branches and allow users to access Wi-Fi and use cloud-based apps such as Gmail or Google Drive anywhere inside the branch. Chromebooks can be found at the information desk at Richmond Green Branch or the third-floor information desk at Central Branch.