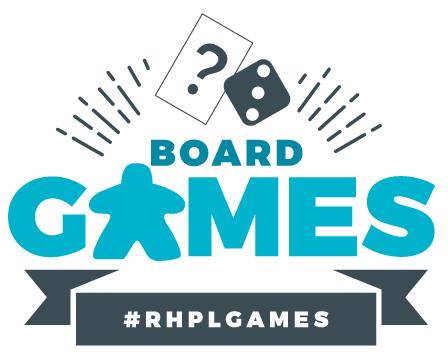 We've got codes for you to break, sushi that needs rolling, and games that simply Boggle the mind. Our board game collection is free to use while you're visiting Central Library; no library card required. Board games can be found on the first floor near the cafe.  
Use the hashtag #RHPLGames and show us what you're playing. Check out these titles from our board game collection: 
• Animal Upon Animal
• Anomia
• Azul
• Boggle
• Chess
• Checkers
• Celestia
• Cockroach Poker
• Codenames

 

• Cranium
• Deal or No Deal
• Dutch Blitz
• Exploding Kittens
• HedBanz
• Jenga
• Jungle Speed
• Monopoly
• No Thanks
• Pandemic

 

• Patchwork
• Risk
• Scrabble
• Settlers of Catan
• Splendor
• Sushi Go!
• Ticket to Ride Europe
• Uno
Board games are for in-library use only and must remain at Central. For more information on our board game collection, please contact library staff. 
Terms of use: 
This game collection is intended for ages 12+. Age appropriateness may vary by game. Please see the children's area for more options.

The Library is a welcoming place for all who wish to enjoy its programs and services. Please be aware of your noise levels as you play these games.

Board games are to be played on the first floor of the Library.

Be gentle with the games, and ensure that all pieces are returned safely to their box. If you find a box with missing pieces, please let staff at the Information Desk know.

Most importantly, have fun!